In the vibrant city of Dubai, where dreams take shape against the backdrop of innovation and luxury, there's a passionate individual who has carved her own unique path to success. Meet Rana Hayek, a Lebanese expatriate with a deep love for her adopted home, Dubai. Rana's journey is an inspiring tale of transformation, from a skincare therapist with a humble hobby to a respected content creator, blogger, and influencer in the dynamic world of social media.
Rana's early career was rooted in skincare, a field she studied with dedication. However, what began as a hobby soon evolved into something much greater. As the world grappled with the challenges posed by the COVID-19 pandemic, Rana decided to explore new horizons. Instead of pursuing a career in skincare or cabin crew training, she ventured into the realm of blogging from the comfort of her home. Her initial focus was on promoting online shops, restaurants, and emerging small businesses.
What Rana quickly discovered was that her voice resonated with an enthusiastic audience. People began following her journey with genuine interest, seeking advice and insights on the topics she blogged about. Her authenticity and passion shone through in her content, and her followers embraced her as a trusted source of recommendations and reviews.
Two years on, Rana has transformed into a prominent content creator, blogger, and influencer in Dubai's bustling digital landscape. She is humbled by the support and love she receives from her growing community of followers. Rana's reach extends to various sectors, from clinics to restaurants, coffee shops to clothing stores – if it's worth covering, she's there to share it with her audience.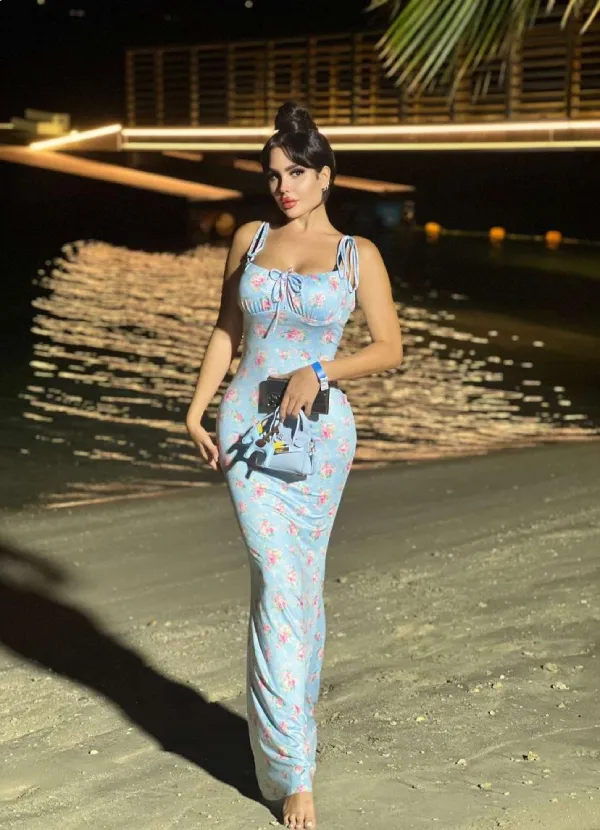 Yet, being a social media influencer is not without its challenges. The seemingly glamorous life portrayed on social media requires meticulous daily planning, well-curated posts, and constant interaction with followers. Privacy, to some extent, becomes a luxury traded for the privilege of sharing one's life with an online audience. For Rana, these sacrifices are a small price to pay as long as she can bring value and the best deals to those who believe in her.
Excitingly, Rana is on the verge of a new venture that has her brimming with anticipation. She's set to launch her own fashion line, offering clothing that reflects her distinctive style. With worldwide shipping, she hopes to spread her fashion influence across the globe, bringing her unique blend of Dubai's flair and her personal creativity to fashion enthusiasts worldwide.
To anyone aspiring to become a public figure or influencer, Rana Hayek has a simple yet powerful message: Follow your dreams and your hopes relentlessly. Shine as brightly as a star, staying true to yourself and your passion. Rana's journey is a testament to the possibilities that await when you dare to chase your dreams, and her story continues to inspire others to do the same.
You can follow Rana Hayek's inspiring journey and discover her unique style on Instagram and Snapchat through the links below:
Instagram: https://instagram.com/rana.hayekk