Profile Summary
| | |
| --- | --- |
| Name | Joshua Pauta |
| Age | 30 years old |
| Date of Birth | March 23, 1993 |
| Occupation | Stand-up Comedian, Actor |
| Zodiac Sign | Aries |
| Birthplace | Puerto Rico |
Laughter is a universal language that transcends barriers, and Joshua Pauta is a master at harnessing its power. 
This biography offers an insightful glimpse into Joshua's journey as a stand-up comedian, comedy skit creator, actor, and influencer, and explores the remarkable world he has carved for himself in the realm of comedy.
Joshua Pauta Early Beginnings and Online Debut
Joshua Pauta's comedic odyssey commenced long before the world took notice.
As early as 2013, he ventured into the realm of online entertainment, sharing his hilarious video content with an ever-growing audience.
His platform of choice was Facebook, where he skillfully curated and uploaded comedic sketches that tickled the funny bones of viewers across the globe.
Master of Comedy
With an innate ability to find humor in everyday situations, Joshua quickly became a sensation.
His comedic prowess shines through the cleverly crafted videos that he shares on his Facebook account.
Garnering an impressive following of over 950,000, Joshua's content resonates with people from all walks of life.
His skits not only entertain but also serve as a reminder that laughter is a remedy for the soul.
Beyond the Screen
While Joshua's comedic genius thrives on social media, he extends his connection with his audience to Instagram as well. 
Through his Instagram stories and posts, he offers a candid glimpse into his daily life, inviting followers to join him in his laughter-filled journey.
His Instagram account, @soyjoshuapauta, boasts a dedicated following of 850,000, showcasing the extent of his influence.
Joshua Pauta's Family and Love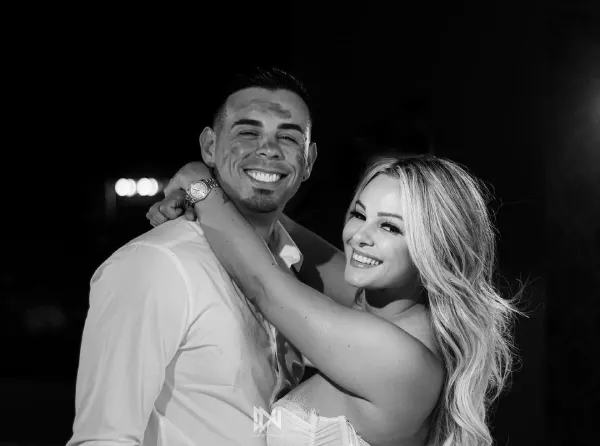 Beyond the comedic limelight, Joshua Pauta's life is anchored in love and family. He embraces the role of a father to two cherished daughters, adding a touch of heartwarming authenticity to his online presence. 
Moreover, his romantic journey intertwines with that of model Krystal Badillo, reflecting a beautiful partnership that extends beyond the realm of humor.
Meeting the Icons
Joshua's ascent in the world of comedy was marked by a memorable encounter. He crossed paths with the acclaimed artist Cosculluela, capturing the moment through an Instagram snapshot.
This meeting of minds underscores Joshua's growing influence and the recognition he's garnered in the industry.
Joshua Patua's Career
Joshua Pauta's journey in the world of entertainment has been nothing short of remarkable.
His career as a stand-up comedian, comedy skit creator, and actor has not only brought laughter to countless individuals but has also solidified his position as a prominent influencer in the digital space.
Joshua's foray into comedy began with a simple yet profound realization: the power of humor to connect people.
As a young individual growing up in Puerto Rico, he observed how humor could bridge gaps, dissolve tension, and bring smiles to even the gloomiest of faces.
With this insight, he embarked on a path to harness this power and share it with the world.
Early in his career, Joshua recognized the potential of the internet as a platform for his comedic endeavors.
He saw that social media had the ability to amplify his voice and reach a broader audience than traditional comedy clubs. Armed with his unique style and perspective, he started posting his comedic videos online.
These videos often revolved around relatable situations and everyday experiences, making them easily accessible and relatable to his viewers.
One of Joshua's first breakthroughs came with his Facebook account, where he began uploading his comedic sketches.
The response was overwhelmingly positive, with audiences resonating with his lighthearted take on life's quirks. His comedic style was characterized by its simplicity, focusing on relatable scenarios and witty observations.
This style not only made people laugh but also allowed them to see their own lives in a new, comical light.
As his popularity grew, Joshua expanded his presence to Instagram. Through Instagram stories and posts, he provided glimpses into his daily life while infusing his signature humor into each snippet.
This platform allowed him to connect with his audience on a more personal level, strengthening the bond between creator and follower.
In addition to his social media ventures, Joshua's comedic talents led him to explore the world of stand-up comedy.
He took to the stage, armed with his unique perspective and a determination to make audiences laugh out loud.
His performances showcased his ability to engage a live audience, delivering jokes and anecdotes that resonated with people from all walks of life.
Joshua's rise to fame also led him to collaborations with fellow influencers and celebrities.
His comedic charm caught the attention of Cosculluela, a notable figure in the music industry, resulting in a memorable interaction that further solidified Joshua's status as a rising star.
Through his career, Joshua Pauta has proven that comedy is more than just laughter—it's a means of connection, expression, and positivity.
He has harnessed the power of humor to create a digital community that thrives on laughter and shared experiences.
His dedication to his craft, relatability, and genuine engagement with his audience have propelled him to influencer status, earning him a place in the hearts of those who seek joy in the simplest of moments.
In a world that often craves light-heartedness, Joshua Pauta stands as a beacon of humor, reminding us all that laughter has the remarkable ability to transcend barriers and bring people together.
Through his comedic journey, he continues to spread smiles, one witty joke at a time.
Conclusion
Joshua Pauta's impact goes beyond comedy; he's a purveyor of happiness and a cultivator of shared laughter.
His evolution from a budding comedian posting online sketches to a revered influencer in the entertainment realm underscores the profound capacity of humor to forge connections.
Through his unique comedic lens, Joshua has woven a digital tapestry of amusement, weaving together people from all corners of the globe.
Each video, each joke, and each interaction serves as a testament to the enduring power of mirth in fostering camaraderie.
In a world that often grapples with complexities, Joshua Pauta's ability to evoke genuine smiles stands as a precious gift.
His journey is a reminder that amid life's challenges, a hearty chuckle can offer solace, unity, and a refreshing respite.
With every witty punchline, Joshua continues to craft an enduring legacy of laughter, reminding us that shared joy transcends barriers and enriches lives in the most delightful of ways.