In a world where achieving dreams requires determination and resilience, Hina Saleem, popularly known as Peppers, has proven that success knows no bounds. Born on the 4th of July in the vibrant city of Dubai, Peppers is more than just a social media influencer; she's a businesswoman, a food enthusiast, and a mentor.
A Trailblazing Journey
Peppers is the epitome of a modern woman who defied norms and achieved her goals while staying true to her roots. Dubai, her birthplace and lifelong home, has been the backdrop to her remarkable journey. She's not just an influencer but also the owner of a successful Marketing and PR Agency. Her agency offers a wide array of services, from social media management to collaborating with influencers and bloggers. As a passionate foodie, Peppers also runs a food blog, where she shares her love for exploring, learning, and growing.
Rooted Beginnings: Early Life
Her early days were marked by the safety and warmth of Dubai, a place she proudly calls home. Peppers embarked on her journey in the world of influencers at the young age of 18, a journey she continues to this day. Her wish is to provide her children with the same secure and nurturing environment that she cherished while growing up.
Triumph Over Trials: Challenges Faced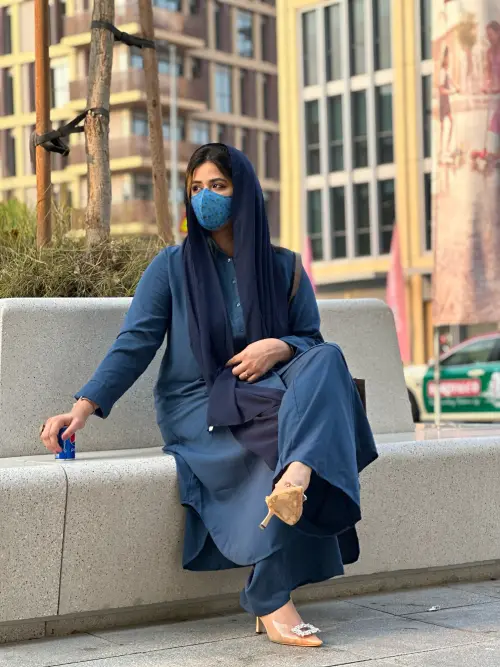 Success didn't come easy. Peppers had to earn every bit of it with unwavering determination. One of the most challenging aspects was the shift in people's attitudes when they witnessed her accomplishments. She lost some old friends along the way but gained new ones who shared her vision. Success wasn't always easily accepted, and Peppers had to endure her fair share of detractors, often from people who didn't even know her. However, her family's unwavering support served as her anchor during turbulent times.
A Vision for the Future: Goals Ahead
Peppers envisions her business growing to new heights, enabling her to support those in need financially in Dubai. She aspires to create a platform for job seekers and provide assistance to the less fortunate—an ambitious goal that reflects her commitment to giving back to her community.
Spotlight and Beyond: Navigating Social Media
Living in the spotlight of social media is no small feat. Every moment, every mood, and every aspect of life becomes public. Even on days when she may not feel like it, social media keeps her engaged with the world, serving as a therapeutic outlet. As the "Mask Girl," she often faces questions about why she continues to wear her mask. Her response is simple: it's the very uniqueness of the mask that contributed to her fame. Being famous and maintaining an air of mystery can go hand in hand, and Peppers embraces this aspect with positivity.
A Message of Empowerment: Words for Aspiring Figures
To those aspiring to achieve success and recognition, Peppers offers valuable advice. She encourages them to stay grounded, maintain their confidence, and approach their goals with unwavering determination. She believes that success can even turn haters into admirers if approached with confidence and a willingness to help others without expecting anything in return.
Connect with Peppers: Join the Journey
Peppers invites you to be a part of her extraordinary journey through her social media channels. Follow her on Instagram at peppersblog__ , and don't miss her entertaining TikToks at peppersblog__. Hina Saleem, aka Peppers, stands as a beacon of inspiration, demonstrating that with dedication and determination, success is within reach.