Have you ever wondered what is the sweetest candy in the world?
Everybody occasionally experiences a sweet tooth yearning, and there is no better way to satisfy that craving than by grabbing your favorite sweets.
However, there are occasions when buying your favorite candy bar alone isn't enough and you need something even sweeter.
You've come to the correct location if you're looking to get your hands on the sweetest sweets you can discover.
Here we rank the sweetest candies in the world, from those with the least amount of sugar to the most. But please, enjoy in moderation! Your dentist will thank you!
Candy That's Less Than 50% Sugar, by Weight: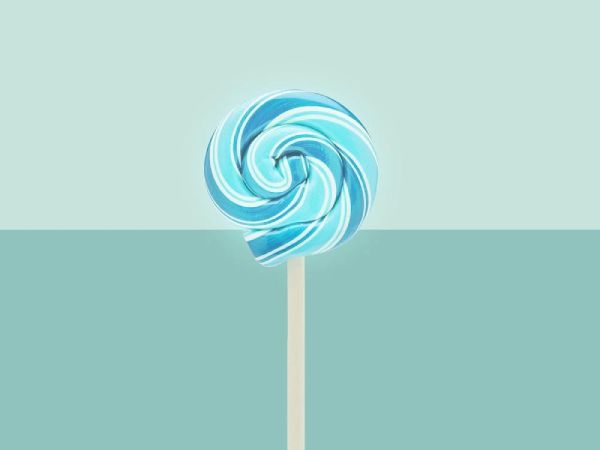 Candy and sweets are things that we all like.. Otherwise, we wouldn't be here! However, there are times when you just want something sweet that has a moderate amount of sugar—nothing that will give you cavities or a dramatic sugar crash. 
Less than half of the sugar is present in Twix, Laffy Taffy, Butterfingers, or Twizzlers. If you want candy but are trying to limit your sugar intake, you can't go wrong with one of these candies.
A Twist of Sweetness: Twizzlers and Laffy Taffy
Twizzlers are the chewy candy that's always a hit at the movies. While they're sweet, they won't overwhelm your taste buds.
Laffy Taffy, on the other hand, brings jokes to the table along with its sweet, stretchy goodness. Both offer a delightful candy experience without going overboard on sugar.
Crunchy and Sweet: Twix and Butterfingers
For those who prefer their sweetness with a bit of crunch, Twix and Butterfingers are the go-to choices. With layers of cookie, caramel, and chocolate,
Twix provides a balanced flavor profile. Butterfingers, known for their crispy, crunchy, peanut buttery center, offer a unique and satisfying sweetness.
Candy That Is A Little More than Half Sugar: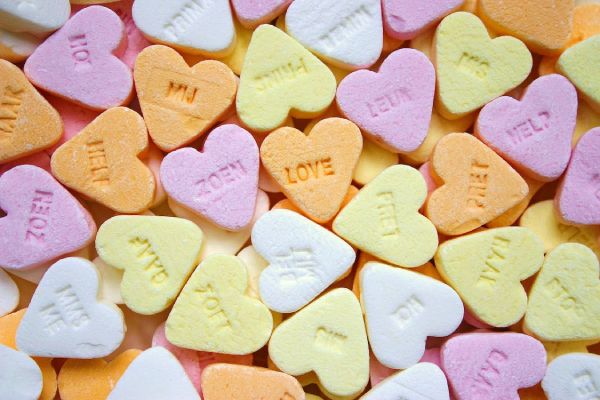 Some people could even contend that they go together better than peanut butter and jelly. Reese's Pieces and Reese's Peanut Butter Cups clock in at over 50% sugar, by weight. 
Reese's Pieces are slightly sweeter than Reese's Peanut Butter Cups due to their rich candy coating, but they are otherwise fairly comparable in terms of sugar content
Grab some Reese's Pieces or Reese's Peanut Butter Cups if you want something sweet but not overly so. Even better, grab both!
Irresistible Peanut Butter Bliss: Reese's Delights
Reese's Pieces and Reese's Peanut Butter Cups offer the best of both worlds: creamy peanut butter and rich chocolate.
The sweet and salty harmony of these candies is a match made in candy heaven. Whether you prefer the delightful crunch of Reese's Pieces or the smooth indulgence of Peanut Butter Cups, you can't go wrong.
Candies That Are 70% or More Sugar by Weight: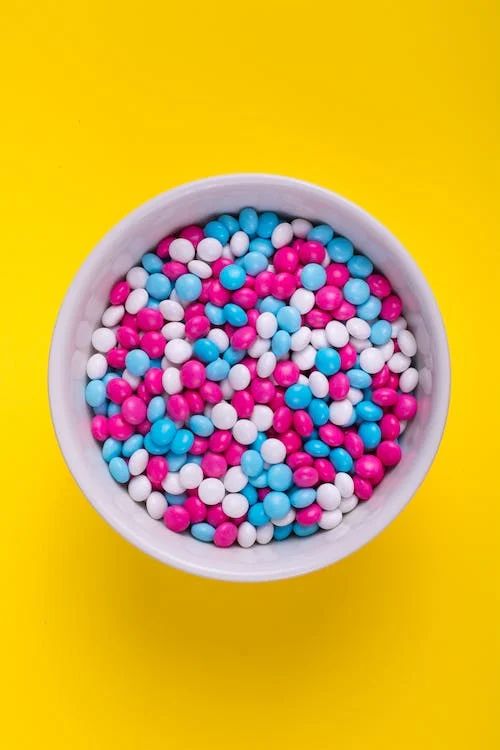 York Peppermint Patties and Three Musketeers chocolate bars are both loaded with sugar if you're craving something ooey, gooey, and sticky. 
There is a chocolate bar for every taste preference; Three Musketeers are filled with fluffy, sweet nougat, while Peppermint Patties are filled with peppermint. for you.
Heavenly Fluffiness: Three Musketeers
Three Musketeers are a dreamy combination of light, fluffy nougat covered in smooth, rich chocolate.
They melt in your mouth and provide a burst of sugary delight. A single bite will transport you to candy paradise.
Minty Fresh and Sweet: York Peppermint Patties
York Peppermint Patties offers a refreshing twist on sweetness. The cool, minty interior is perfectly complemented by the sweet chocolate coating.
It's an exquisite blend of flavors that will satisfy your sweet cravings with a hint of minty freshness.
Taste the Rainbow and the Sugar! Candies That Are Over 70% Sugar
It turns out that, at least according to Skittles, the majority of the rainbow is composed of sugar. Skittles will satisfy your craving for a fruity, delectable, and sweet delight.
They are about 70% sugar by weight, but every bite is sure to be 100% delicious.
Bursting with Fruitiness: Skittles
Skittles are a fruity explosion of sweetness. Each little candy is bursting with bold flavors, from tangy citrus to sweet berries. They offer a delightful, chewy experience that's hard to resist.
The Sweetest Candy In The World:
It's a tie! Over 90% of the sugar in Nerds, Pixie Sticks, and Fun-Dip is in its weight.
If you think about it, Pixie Sticks and Fun-Dip being ranked as the sweetest candy in the world is no surprise.
They are both bags of sugar; one comes with a dipping stick to assist in the sugar-to-mouth process, and the other involves pouring fruity-flavored sugar directly into your mouth.
Nerds are just crystalized versions of sugar with fun fruit flavors, plus a little bit of Oompa Loompa magic.
No matter how much or how little sugar is there, there are no wrong answers when it comes to candy.
Any candy can be placed somewhere along this continuum of sweet delight.. So the next time you get hit with a craving for something super sweet, we're here to help!
The world of candy is a delightful and diverse one. There is candy for every sweet tooth, whether you favor your sweets on the milder side like Twix or crave the sugary pleasure of Nerds and Pixie Sticks.
Indulge in the symphony of flavors and textures that candies offer, from the smooth chocolatey embrace of a Reese's Peanut Butter Cup to the zesty burst of fruitiness in Skittles.
Whether you're reminiscing about childhood favorites or exploring new confections, the world of sweets holds a treasure trove of happiness waiting to be unwrapped and savored.
So, unwrap a little sweetness and let the sugary magic take you on a delightful journey of taste and nostalgia!
Just remember, moderation is key, but indulging in your favorite sugary treat now and then is a delightful experience that brings joy to life.
So go ahead, treat yourself to the sweetest candy in the world!